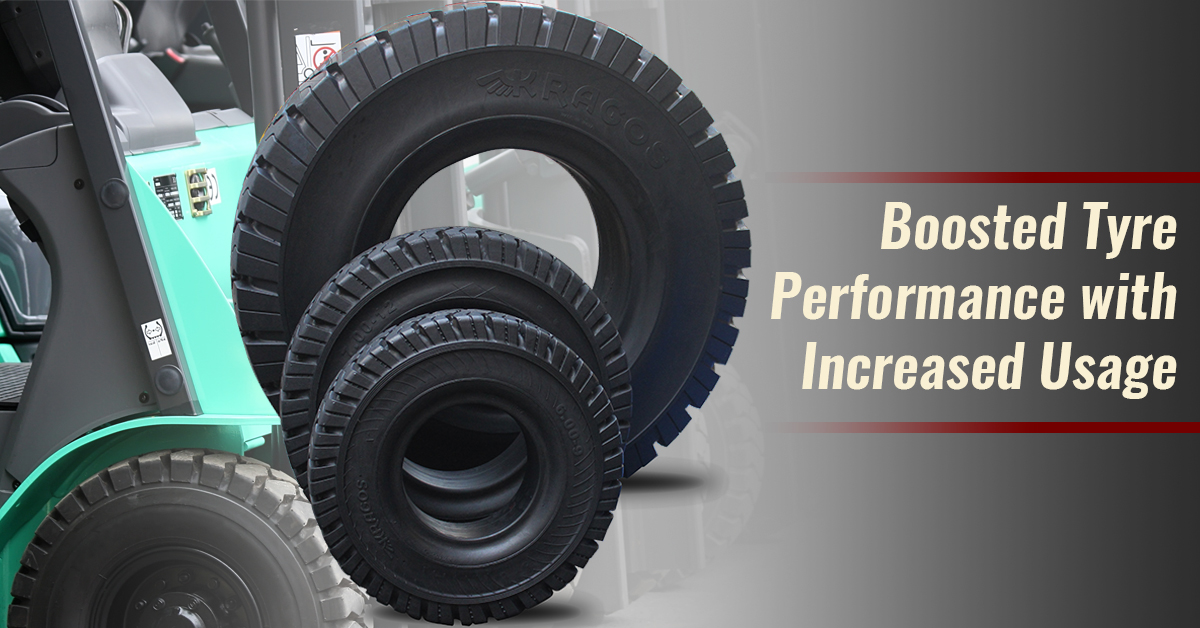 Forklift Tyres
,
Tyres
Boosted tyre performance with increased usage
forklift tyre exporter// forklift tyre manufacturer// Forklift Tyres// increased tyre performance// tips for forklift tyre purchase
---
Boosted tyre performance with increased usage
The primary concern for utility equipment or vehicles such as forklifts, trailers and tow trucks is the consequent wearing of tyre health and condition, owing to increased periods of heavy manual labour. Most solid tyres in the market will offer you durability, stability and minimal maintenance but no one can defy physics. You need tyres with increased stability and boosted performance.
The more you run and the heavier you lift, the more severe shall be your tyre damage!
Or will it?
Kragos has amalgamated its top technical minds to present a brilliant solution! Using the phenomenon of long and aggressive tyre usage to the advantage of all, Kragos technology has created a solid tyre format that not only improves with usage but also utilizes the natural processes of damage to unveil a more durable, stable and cost-efficient tyre.
Here is how Kragos tyres are able to improve performance as they are working hard on your equipment:
Softer compound
Solid means tough, hard and durable. So when you think of a solid tyre, you expect it to be hard as can be.
Kragos' approach takes into consideration the scientific fact that the harder something is, the easier it is to break or get damaged. Harder compounds are more brittle, leading to layer separation, chipping or chunking of tyres. Hence, the Kragos' solid tyres are constructed out of Nylon Fibre Matrices that offer just the right amount of hardness and strength without being too stiff. This ensures delayed wear on the external tyre layers.
Plus, all Kragos tyre compounds are tested for initial and minimum viscosity, cure time optimization and post-cure behaviour making them ideal for extreme usage tyres.
Reinforced core
In cases of tyre damage or wear, the Kragos tyre's footprint increases, to offer increased stability and boosted performance. Since the structure of these tyres is designed with a stronger core, external wear does not hamper functioning.
Higher Foot Print
Owing to the softer tyre compounds, over time Kragos' tyres tend to assume a higher footprint or contact patch. This does not in any way compromise the tyre's strength due to its reinforced core but in fact, increases stability and functionality. This has a direct effect on performance, making it easier and more efficient to operate equipment and vehicles that have been using these tyres for a while.
The other advantage of Kragos' tyres is the drop in rolling resistance that can get created due to malfunctioning tyre contact and energy loss caused by tyre dampening. In these tyres, the wearing is controlled and even due to superior tyre compounds that ensure there is no deformation of the tyre footprint.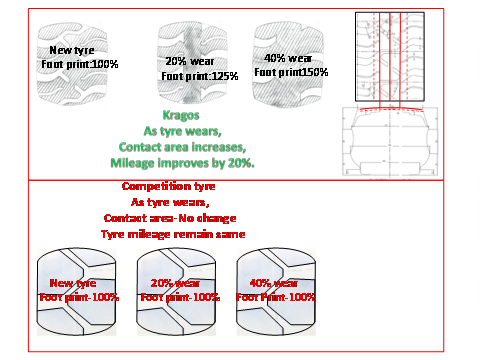 We can conclude that the way in which Kragos tyres continue to give, long after other tyres have given up is due to their superior ThermExpel technology, ingenuous tyre compounds and advanced structure and design, created especially for material handling and industrial equipment.
Kragos – For better performance with increased usage
Designed by industry pioneers and leaders, Kragos has a strong global reputation for the highest standards of quality, reliability and robust performance in solid tyre offerings. Modern and built using the most contemporary tyre technologies, Kragos solid tyres offer a world of advantages – high performance, cost advantages, efficiency, safety and comfort.
Kragos tyres have gained a strong reputation, track record and preference as the solid tyre of choice in almost every continent across the world.